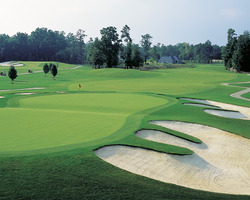 MYRTLE BEACH AREA GOLF COURSE OWNERS NAME SHAFTESBURY GLEN GOLF & FISH CLUB - 2009 GOLF COURSE OF THE YEAR
Grand Strand Association Says The Clyde Johnston Designed Course Is Tops Among All Others In The Area
July 17, 2009, Myrtle Beach, S.C. — The Myrtle Beach Area Golf Course Owner's Association (MBAGCOA) has named
Shaftesbury Glen Golf & Fish Club
the 2009 Myrtle Beach Golf Course of the Year.
Inspired by celebrated courses like Winged Foot and Augusta National, architect Clyde Johnston designed a traditional British Isles course at Shaftesbury Glen Golf & Fish Club. Tucked into the forest and farmlands along South Carolina's beautiful Waccamaw River, the course features wide fairways and elevated greens. The Shaftesbury Glen Clubhouse overlooks the Waccamaw River and offers tranquil views tailor-made for post-round relaxation.
In addition to this most recent honor, last year, Shaftesbury Glen was voted one of the Top 50 Golf Resorts in the United States in Golf World's first-ever ranking of the best public, private and resort facilities in the country. Shaftesbury Glen was on Golf Digest's list of nominations for best new course of 2001. It was rated at 4 stars (Outstanding) in Golf Digest's Places To Play (2005), which notes that the course's greens "may be the best on The [Grand] Strand."
The MGAGCOA evaluates courses on conditions, quality of ownership and management, contributions to the community and efforts to improve the growth of the game.
"The Glens Group is truly honored to have Shaftesbury Glen named Golf Course of the year," said Jason Himmelsbach, marketing manager for the Glens Golf Group. "The MBAGCOA judged our course using strict criteria and to be recognized as the best, when there are so many great courses along the Grand Strand really showcases the hard work and dedication of everyone here at the Glens Group and Shaftesbury Glen."
The Golf Course of the Year award has been given out since 1996.
Shaftesbury Glen
will now be judged statewide. Statewide winners move on for the chance to be named National Golf Course Of The Year.
About The Glens Golf Group

The flagship of The Glens Golf Group is Heather Glen, which is located in Little River, S.C. on a magnificent, 400-acre historic site. Designed by Willard Byrd and Clyde Johnston, the course opened in 1987.
Glen Dornoch Waterway Golf Links, often referred to as "Myrtle Beach's Most Talked About Course," was designed by Clyde Johnston in a tribute to legendary course architect Donald Ross. Glen Dornoch is a traditional course and each hole flows with the natural terrain of lakes, live oaks and spectacular marsh and river views.
Known as the "Friendliest Course On The Beach," Possum Trot has an honored place in the history of Myrtle Beach golf. One of the first ten championship courses built along Myrtle Beach's Grand Strand, which now has more than 100 golf courses, Possum Trot has stood the test of time. The course's Old English design features spacious fairways, challenging par 5's, as well as flawlessly manicured greens and spectacular flower displays.
Inspired by world-famous courses like Winged Foot and Augusta National, architect Clyde Johnston designed a traditional British Isles course at Shaftesbury Glen Golf & Fish Club, located on the banks of South Carolina's beautiful Waccamaw River.
###