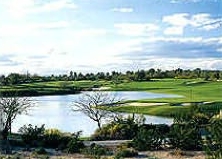 Played Grayhawk Talon last Sunday, and was quite humbled, but still impressed...
It had been at least a year since I had played either the Raptor or the Talon course at Grayhawk, so I played the Talon course, remembering that it was a little more forgiving than the Raptor. (The last time I played Raptor, all I could remember was trying to hit 4 irons out of fairway bunkers all day, which lead me to drink myself through the back nine...)
The Talon course is definately the more user friendly for handicaps of 12-20. After having a nice breakfast at Phil's Grille, my playing partner and I thoroughly enjoyed hacking our way around Talon.
The highlight of the day was #17, "Devils Drink" a 114 yard dicey par 3 (wedge) that's is all carry over water. I won the $5.00 "closest to the pin" bet, and then (of course) three yanked it and paid my buddy $10.00. Although either course at Grayhawk has always been a challenge for me, I escaped with a somewhat respectable 87.
The staff (as always) was excellent, and conditions were prime time. The dogs at the turn are one of the best in the valley!
If you're the typical bogey golfer, then I would stongly recommend the Talon course first, then try your luck (and believe me, you'll need some) on the Raptor.