Palm Springs, California Is A Perfect
Golf Vacation Destination!!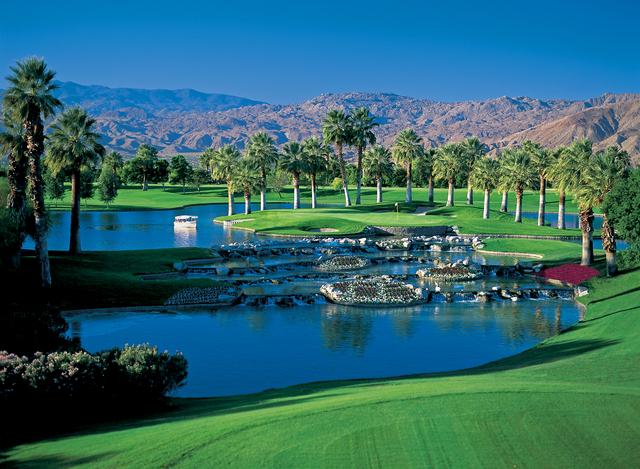 Palm Springs is a short drive away from Los Angeles making this perfect desert paradise a favorite go to escape plan for many of Hollywood's golf enthusiasts.
Hollywood's famous names bring their superstar clubs and high profile selves when visiting the greens of Palm Springs. The celebrities choice for golf vacations are the

Palm Course

and the

Valley Course

located at the Desert Springs Golf Resort.
Desert Springs Golf Resort is a 36-hole facility and has epitomes of high class treatment. The scenery and playable area on the courses will fulfill any golfer's dream vacation. The

Palm Course

and the

Valley Course

were designed by acclaimed architect Ted Robinson, "King of Waters-capes" and have made Desert Springs the premier California golf resort that it is today.
On both 18-hole courses: Golfer's can take a high tech drive in one of our new golf carts with state-of-the-art navigational and computing systems. Right from your cart, you can use your onboard computer to view graphic layouts of each hole, compute exact yardage to the pin, monitor pace-of-play, and solicit tips from the course's pro on playing a particular hole. The result is faster playtime, lower scores, and a more enjoyable game. In addition, your lunch or snack can be ordered as you tee off from the 18th hole and be waiting for you at Sand Trap & Wedge for the perfect end to a great round.
The Greens at Desert Springs Putting Course:
Created to provide golfers of all ages and abilities an enjoyable golf adventure, The Greens at Desert Springs - our 18-hole championship putting course - is the perfect solution. The nation's first, all-natural turf putting course combines all aspects of a full length course: sand bunkers, water hazards, strategically placed trees, and rolling "fairways" all played with just a putter. The par 54, 1,435-foot course is truly "golf in miniature," but big-time fun for individuals, families, or group events.
The Palm Course and the

Valley Course

are park of the JW Marriott Desert Springs Resort and Spa in Palm Desert, California. It provides visitors with stylish surroundings and views any well seasoned traveler desires. The emerald fairways for their Palm Desert Golf Courses and mountains that seem to touch the ski wins over any golf lovers heart.
Please Contact Our Golf Zoo Travel Specialist To Book A
Golf Vacation
Please Call:
800-929-7300