YES....MOUNTAIN GOLF...IN FLORIDA?!
The diverse landscape of the area just north of Orlando known as the "Florida Highlands", is home to some of the most scenic vistas in the state of Florida – and great, natural terrain golf courses. OK…we're not talking the Rockies or the Appalachians, but in a state most think as flat and ringed with sugar-white sand beaches, we do have some elevations.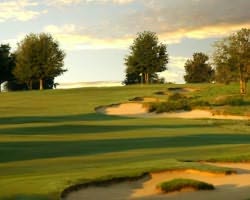 Fortunately for us golfers, these elevations are within minutes of Orlando and are home to some of the highest-rated courses in the state. Check out the courses we refer to as Florida "Mountain Golf"… Bella Collina, Sanctuary Ridge, The Legends Club, and Mission Inn.
The designers of the courses noted above, did not move much earth during course construction. The natural "mountain" terrain, sand barrens, natural lakes and native vegetation mostly dictated the course design characteristics. El Campeon, "The Champion" at Mission Inn was designed and built in 1917, and like other courses born during that era, the natural terrain - not a bulldozer, was "the designer". Some thoughts from Nick Faldo when building his Bella Collina masterpiece include, "the natural rolling site with steep elevation changes is very unusual for Orlando", and "the course will provide an inspiring golfing experience for members and guests for years to come."
These courses are all within a 45-minute drive (and well worth the trip) of the popular Orlando hotel and condo choices. Also, Golf Zoo has made playing these courses easier by offering "Florida Highlands Golf Trail" Packages that include great accommodations and great golf courses that places our golf customers within minutes of the courses noted above.
Call us today to book these great Golf Courses!
(OR)