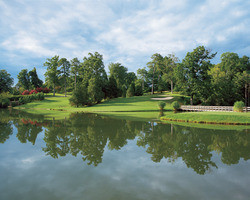 I just returned from a weekend golf getaway and I must say I was most impressed by the staff and golf courses at the Golden Horseshoe! The Golden Horseshoe is located in historic downtown Colonial Williamsburg, Virginia, and is home of two fantastic 18 hole courses, as well as a top notch executive course.
I started off my day at the Gold Course which opened in 1963, designed by Robert Trent Jones Sr. This is one of the finest traditional golf courses you will find anywhere in the country. There are no homes on the golf course and the elevation changes are fantastic. This course is known for having the best set of par 3's and I can attest, they are stunning but demanding.
After a wonderful lunch in the clubhouse I ventured just down the road to the Green Course which has its own clubhouse. The Green Course was built by Rees Jones, (Jones Sr. Son) in 1991 and designed to be more of a resort style course that is more forgiving then the Gold. It can best be described as a links style course bordered with trees. You still get the wonderful elevation changes but much larger landing areas and bail out areas by the greens. I had heard all the hype of the Gold Course (which it lived up to) but not much on the Green. Well the Green course is a fantastic layout, kept in great condition in beautiful surroundings. A must play.
As I mentioned earlier there is also a super executive course- Spotswood, redone in 1963 by the elder Jones. This is one of the best executive courses I have seen and if you play 18 in the morning on either the Gold or Green you can get a free replay on the Spotswood in the afternoon.
If you are looking for a great 36 hole day or just a super 18 give Golf Zoo a call at 800.929.7300 and we can put together a memorable golf vacation for you.