Planning your golf vacation just got easier with Golf Zoo's All-New Interactive Area Maps! If you haven't already seen them, have a look at this post for an example, what you can do with the maps and images.
In this example, I will use the destination 'Arizona' as the example. There are two (2) ways you can get to each destination's interactive area map:
The First, is simply from our main de
stination map page that lists all of our destinations. In the image below - the interactive map graphic/button is highlighted.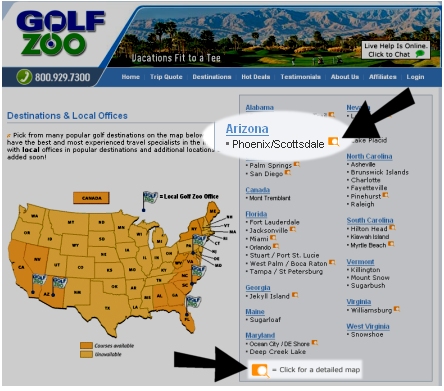 The Second option is avialable when you land on the Overview page of a destination - click on the Interactive Area Map button near the top of the section - as noted in the image below.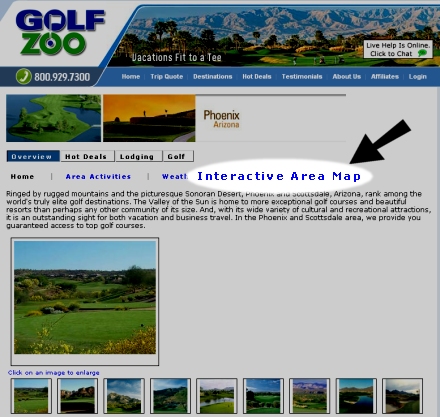 Once on the Map page - you have options on how you can view the map (see the below graphics). I suggest you select the "Satellite" or "Hybrid" views for a real bird's eye view of some of the golf courses and lodging properties. You can also get directions from from one point to another (the directions will open up on a new page). With name, address, pictures and address information available on every "bubble" it makes it easy to find out where you want to stay relative to the golf courses you want to play - or what golf courses you may want play given the proximity to your lodging property. Simply select a property on the right side listing of options and the map will point out where it is on the map.

Just want to see what's around a particular property? Thats fine too- you can also just click the points on the map to get the same information. All of the green number points on the map are Golf Courses and all of the blue lettered points on the map are Lodging properties.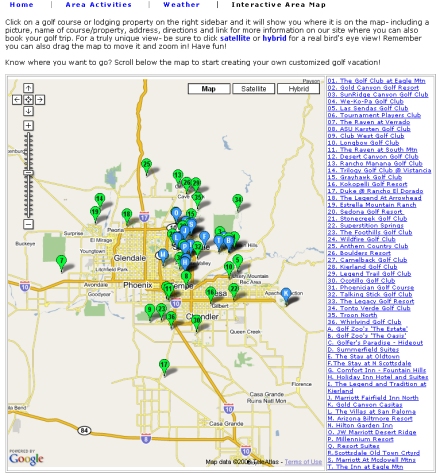 Clicking on the picture or name of the property in the 'bubble' will take you to that page in our site for more pictures and description as well. You can zoom in, click and drag the map to view anything on the map that you wish (see the below two examples). Have fun!