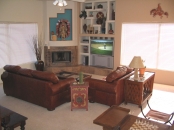 Golf Zoo's "The Estate" was introduced in the fall of 2004, and has become an instant favorite for larger groups of golfers who want it all. "The Estate is a 4100 sq. foot private estate in Northeast Scottsdale that can sleep up to 12 people, all in their own bed. Put quite simply.... it's loaded. The amenities are unbelievable:
Private Pebbletech Pool

Private 6 man Jacuzzi

Two big screen TV's with DVD players, digital cable and surround sound

Weber gas powered grille on the back deck

Professional Pool Table

Big back deck with phenomenal views!

"Kegerator" - icy cold beer 24/7.
From now until September 15, come to Scottsdale, and stay somewhere truly memorable while playing UNLIMITED GOLF at four of the highest rated courses in the valley. This is a deal that simply can't be beaten.
4 nights lodging at "The Estate" (based on 12 - slightly higher with less)

UNLIMITED Golf with cart at:
This package is valid from June 1, 2005 through September 15, 2005.
$99.95 per person per day Weekdays,$119.95 per person per day Weekends.
Call today for this Special! Space is limited! 1-800-929-7300